Printing Options
There are many options when you have your book printed. Here is a quick reference of some options you have:
Bindery Options*:
- Perfect Bound Perfect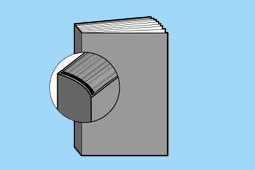 bound applies to paper back/soft cover books made of flexible, yet durable stock. Typically used for novels, manuals, and cookbooks

- Coil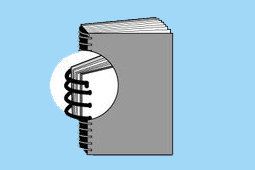 Coil binding is a versatile option when your book needs to lay flat when turning pages. Cookbooks, training manuals, and Presentation materials are prime examples.

- Saddle Stitched (Stapled)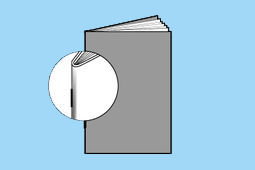 Saddle stitched is used for smaller page counts where the pages are held together with staples in the center. Catalogs, magazines, programs and brochures typically use this binding method.

- Hard Cover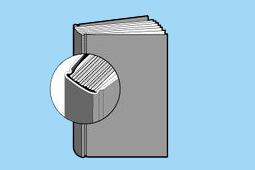 Hard cover binding is a high end option for self publishers. A rigid hardcover encases the entire interior.

*Limitations apply ask your print consultant
Cover Options:
- Gloss Laminate (standard)
- Matte
Paper Options:
- 50# White
- 60# White and Natural
- 70# White
- Custom papers are available
Page Sizes - Standard:
- 5 1/2 X 8 1/2
- 6 X 9 (1/2 inch thick)
- 8 1/2 X 11 (portrait only)
Page Sizes - Optional:
- 4X6
- 5X7
- 5X8
- 7X10 (portrait only)
- 8x10 (portrait only)
- 8 1/2 x 8 1/2 (portrait only)
Turnaround Options:
- Standard - 7-10 business days from final proof approval + shipping
- Rush - offered at additional costs 4-7 business days from final proof approval + shipping ($)
- URGENT - Delivery- ask your print consultant
ISBN (International Standard Book Number)
ISBN stands for International Standard Book Number. It is a unique identifier for books, eBooks, tapes, and CD's. The ISBN numbering system is used worldwide and publishers around the globe identify their work in this standardized format. Each title or edition must be identified by a unique ISBN
It is the standard ID number used to identify books by booksellers, libraries, book wholesalers and distributors.
Other printers and publishers may offer ISBN numbers in their services but keeping mind, whoever purchases the number is listed as the publisher as ISBN numbers are non-transferrable. Acquiring a ISBN is a simple process.
Go to ISBN.ORG and order directly from Bowker Identifier Service (USA issuing agency)
Desk Top Publishing Standard Review (free). We will review for:
- The resolution of images
- Trim sizes and margins
- Page number placement
- Embedding of fonts
If standards are not met files will be returned to you for modification. All turnaround times are based on PDF ready-to-print files being submitted.
*Review does not include proofreading or spell checking
Quick Fix Desk Top Publishing/Formatting $35 flat fee:
We will make simple modifications to your document including checking the margins, page breaks and fonts for basic structure including a simple Word Document to PDF conversion. If you are providing Word Document which needs formatting, the file has to be submitted prior to quote. It will be reviewed and we will provide an estimate to convert the file using standard guidelines. If you accept the estimate, payment for formatting is required prior to beginning formatting.
Formatting will be billed at $75/hour billed in 15 minute increments
Proofs:
Proofing is essential to quality production and meeting your publishing needs. One electronic proof will be provided free of charge. If you prefer a physical proof, it can be ordered unbound or bound . Physical proofs can be helpful when your book is in color and / or uses extensive graphics or photos.
Print proof copies are provided at an additional cost.
Shipping:
All books are shipped UPS or FEDEX Ground, based on your preference (fees apply).
You may select:
- 3 day
- 2 day
- Overnight
There is no shipping charge if picked up at our facility.